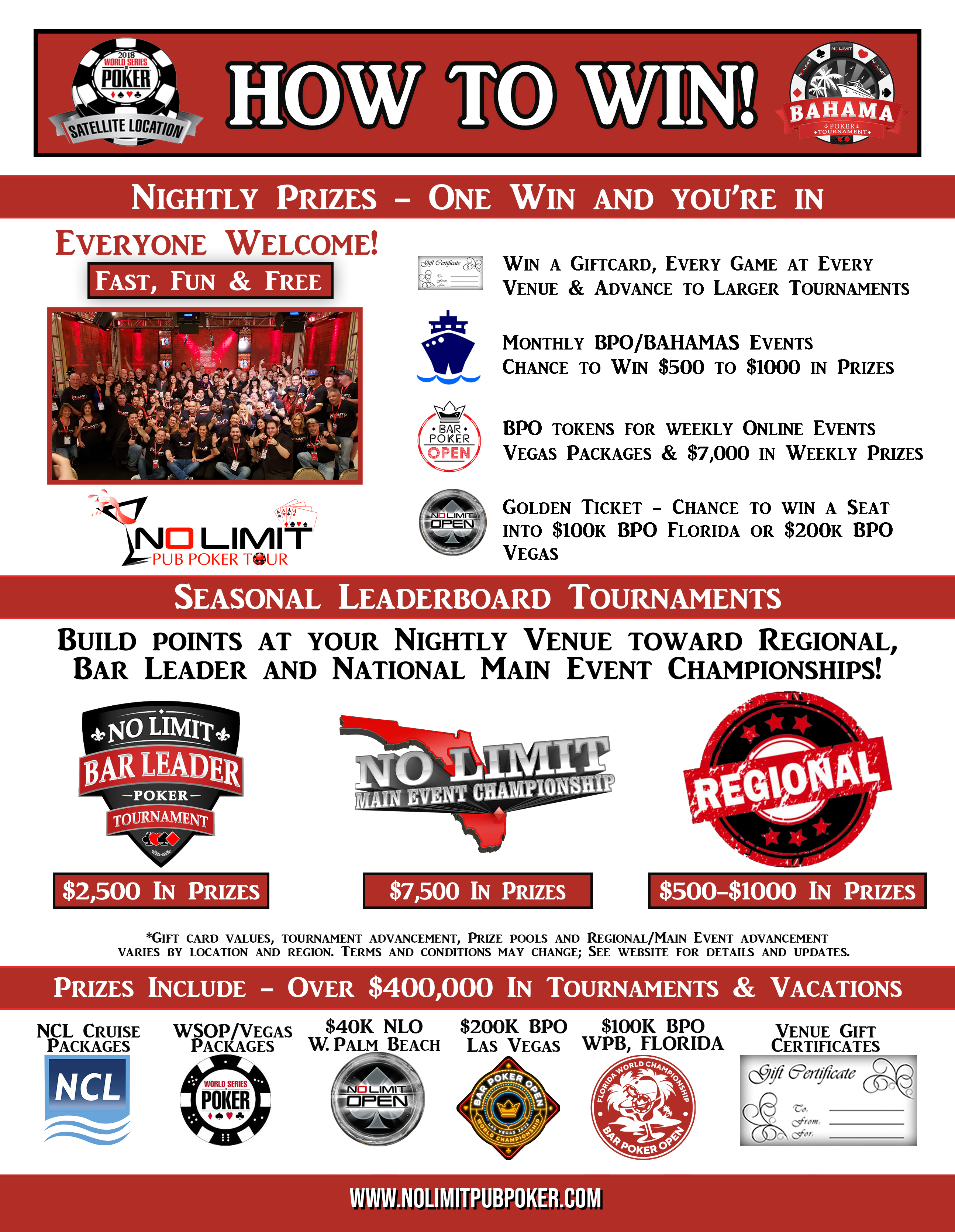 Venue Gift Certificate Winners Every Night!
Every night in every game you will win a Gift Certificate valid at that location
Every week you can win a FULL VEGAS Package to play in the $200k BPO in June
You can qualify by winning a BPO Token at any participating BPO Locations
We will give a token to the winners of Game 1 & Game 2 and the player with the most points for the entire night who has not won either game. (If the winner of Game 2 is the same as the winner of Game 1 then 2nd place will get the token.)
Tokens can be used every Sunday online at 11am to win over $5,000 in prizes
Players can use an extra token as a re-entry
Winners online get a BPO seat
First Place online wins a Full Vegas BPO package
Check website for BPO location near you and more details
Monthly Bahamas Bash - $185 - $500+ in prizes - Click Here For Details
Winner receives NCL* Bahamas Poker Cruise Voucher (Can also be used for an NLO* seat or BPO* package.)
Win a Bahamas Card invitation by winning or chopping any game at any Venue
Each additional Bahamas Card gets you an additional 500 in chips
The Bahamas Poker Cruise is an unbelievably great time in the Bahamas
Bring a new player & you will both get an extra 1000 chips and your guest will get a FREE drink and a FREE Bahamas Card to enter the monthly tournament
Winners receive two $365 NLO/NCL/BPO vouchers (some regions is one)
Check Special Events section on website for Bahamas event schedule & details
NPPT Main Event Championship - $5,000 in prizes - Click Here For Details
WSOP/BPO Vegas Package for 1st, BPO/NLO/NCL Vouchers for rest of final table and many more raffles and wheel prizes
Top 3 Win Exclusive No Limit Main Event Trophies
Top 10 at one night venues & Top 15 at two night venues qualify for Regionals
Regional Championships have a predetermined # of seats for the Main Event
There is also a predetermined number of players that get a bye into the Main Event through their Regional Rankings. See Local Regional Events for details.
Each Regional Event has a unique prize structure.
Bar Leader Championship - $1,000 in Prizes - Click Here For Details
WSOP Vegas Package for 1st, 8 NLO/BPO/NCL Seats for rest of final table
Bar Leader Champion wins Exclusive Bar Leader Cup
Most Exclusive Event of our season!
Every 4 Months Bar Leaders Face off for a WSOP Vegas Package
Qualify by having the most points at any individual bar
Bar Leaders are usually awarded a Bar Leader Trophy by their local Managing Dealer
Top Gun - #1 Overall Points
National Top Gun Wins Traveling Trophy for one season
Wins an NLO seat or $185 BPO/NCL Voucher
Wins a prestigious Top Gun Crystal Trophy
Each regional Top Gun wins an award and the National Overall Top Gun wins ultimate bragging rights and has their name forever engraved on the Top Gun Traveling Trophy

Bahamas Poker Cruise (NCL) - 4day/3 night cruise - Click Here For Details
Win a seat at Main Event, Bar Leader, Bahamas Events, PATs or Top Gun
Amazing fun time & Poker Events every night - Norwegian ALL U CAN DRINK cruises

NO LIMIT OPEN (NLO) - $40,000 Guaranteed event - Click Here For Details
Event held once a year for Bar Poker Players Only
Win a seat at Main Event, Bar Leader, Bahamas Events, BPO online or Top Gun
Annual event Hosted by the Palm Beach Kennel Club

Atlantic City Winter $100,000
Las Vegas Summer $200,000
Event held twice a year for Bar Poker Players Only
Win a seat at Main Event, Bar Leader, Bahamas Events, BPO online or Top Gun
Borgata in the winter - $100K
Golden Nugget in June - $200K
We are a FREE poker league which is creating a live social game where players can experience the same fun and excitement as the WSOP without risking anything of value. All of our games are FREE to play and there are absolutely NO drink Minimums, NO cover charges, NO membership fees, and NO spending requirements of any kind. Dealers are independant contractors and their sole income is the optional gratuities/tips they receive from players. These tips are completely optional. All forms of gambling at our venues is strictly prohibited and any players, or dealers caught gambling will be banned from league play.
Venue Gift Cards, Prize Pools and Regional/Main Event advancements may vary by region. Terms and Conditions are subject to change. See website for details and updates or call your local Regional Owner.