Bar Poker Open Tokens are virtual tokens for a weekly online tournament with a chance to win a FULL VEGAS PACKAGE (airfare & hotel) to play in the $200,000 Bar Poker Open at the Golden Nugget every year in June!! No Limit Pub Poker gives away BPO Tokens each night at participating BPO Venues!

In addition 4% (about 30 players) win a seat to play in the $200,000 BPO tournament in Las Vegas in June OR the $100,000 BPO tournament in Atlantic City in October OR the $50,000 South Florida No Limit Open in March. There is Over $5,000 in prizes every week!!

The BPO also does two HIGH ROLLER Events Every Year where there are 5 FULL Vegas Packages. It is 5 tokens to enter and 5 token add-ons and 5 token add-ons so players with a lot of tokens have an advantage. This is a great opportunity if you have an excess of unused tokens.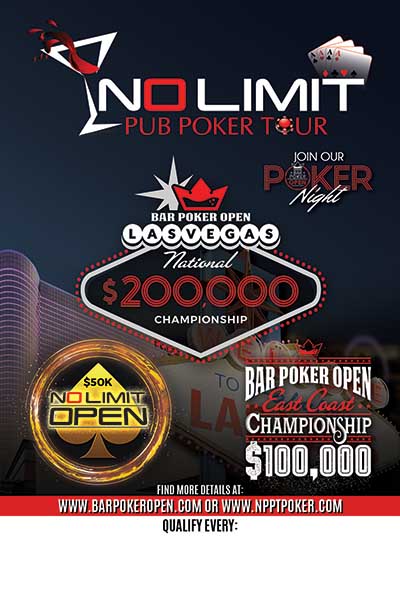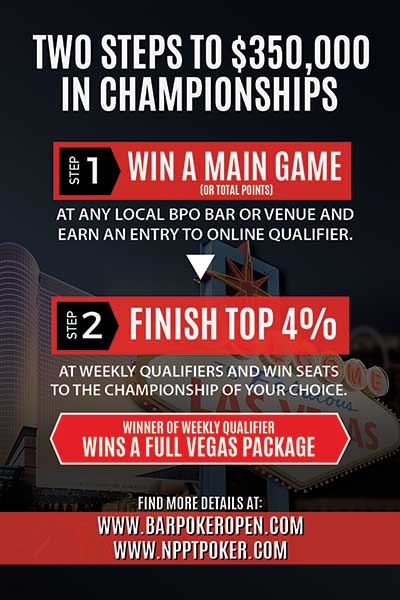 We are a FREE poker league which is creating a live social game where players can experience the same fun and excitement as the WSOP without risking anything of value. All of our games are FREE to play and there are absolutely NO drink Minimums, NO cover charges, NO membership fees, and NO spending requirements of any kind. Dealers are independent contractors and their sole income is the optional gratuities/tips they receive from players. These tips are completely optional. All forms of gambling at our venues are strictly prohibited. Any players, or dealers caught gambling will be banned from league play. Venue Gift Cards, Prize Pools and Regional/Main Event advancements may vary by region. Terms and Conditions are subject to change. See website for details and updates or call your local Regional Owner.
Bar Poker Open Venues