NO LIMIT OPEN (NLO)
"Largest Bar Poker Event ever held in Florida!"
The No Limit Open (NLO) is a professional poker tournament for "Bar Poker" Players Only and is tentively scheduled for May 20th, 2017 at the Palm Beach Kennel Club. The No Limit Pub Poker Tour will be promoting this event for the NLO. The Tournament Structure will be comparable to a WSOP $365 event. Details of structure will also be announced before the March NPPT Poker Main Event. The NLO tournament will be a guaranteed $25,000 prize pool. NPPT will be giving out NLO seats to players at the final table of our Main Event & Bar Leader Finals & to Winners of our Bahamas tournaments and Golden Ticket P.A.T.s! We are simply giving away $365 NLO seats instead of $365 WSOP seats. (First Place in the Main Event and the Bar Leader will still be winning a $1500 WSOP seat.) The Golden Ticket Player Appreciation Tournament schedule will start in early 2017. Golden Ticket Player Appreciation Tournaments (PATs) are the EASIEST way to qualify for entry into this exclusive event. We are trying to give away an NLO seat every other week starting in 2017.
GOLDEN TICKET VENUES (GTVs)
Find a Golden Ticket Venue near you by checking our website, www.NPPTpoker.com. The Golden Ticket Venues are highlighted in Gold. Standard Golden Ticket venues are giving away two golden tickets and Premium Golden Ticket venues are giving away three golden tickets. Golden tickets are won by either having the most overall points at the end of the night or by winning a Main Game. Ask the Managing Dealer at your local venue how to win a Golden Ticket at your location. Even if you have no points in game 1 you always have a chance to win a Golden Ticket because we are giving away at least 2 Golden tickets at every venue. Golden Tickets are not transferable.

Golden Ticket Locations will be giving Golden Tickets to the winner of Game 1 and the winner of Game 2 OR to the Top 2 in overall points. The managing Dealer will notify players of which system they are using. On the website these venues are just highlighted in gold.

Premium Golden Ticket venues will be giving away 3 Golden Tickets every night. The three tickets will be awarded to the winners of Game 1 and Game 2, with the third ticket being given to the highest overall points winner that has NOT already won a ticket that night. On the website these venues are highlighted in gold and "display" one golden ticket. These venues will eventually host their own Player Appreciation Tournament.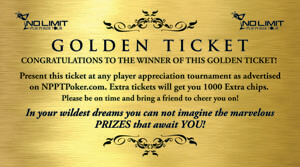 PLAYER APPRECIATION TOURNAMENTS (PATs)
Golden Tickets can only be redeemed at PATs. Every additional golden ticket will get players an additional 1000 chips "or" they can use their extra golden tickets to play at other PATs. The PAT schedule will be posted on the website in early January 2017. The Player Appreciation Tournaments will eventually be held bi-weekly. PATs will have a separate leader boards and all points will be applied to that leader board regardless of the venue hosting the event making it a great way to accumulate more points for the Top 20 overall race for extra chips at the main event. The Player Appreciation Tournament structure will be the same as Bahamas tournaments except there will be 15 minute blinds. Winners of Player Appreciation Tournaments win a seat to No Limit Open! Players at the No Limit Open will play for $25,000 Guaranteed Prize Pool at Palm Beach Kennel Club!

We are a non-gambling league which is creating a live social game where players can experience the same fun and excitement as the WSOP and win amazing prizes from our sponsors without risking any money! All forms of gambling at our venues is strictly prohibited and any players or dealers caught gambling will be banned from league play. There are no membership fees and no spending requirements at any NPPT venues. Golden Tickets are not transferable.
No Limit Open Player Appreciation Tournament (PAT) Tentative Schedule